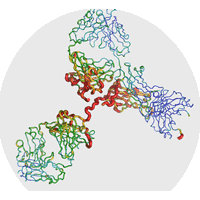 Antibody De Novo Sequencing
The objective of this service is to obtain 100% sequence of an antibody with 100% accuracy solely from a small amount of antibody protein sample without antibody expression cells. We are providing one of the world best quality antibody de novo sequencing services. We guarantee a 100% accuracy of delivered mAb sequences. If the expressed mAb with our delivered sequences has lower activity than the original mAb in ELISA assay, we'll continue our effect to identify possible sequence errors free of charge.
Process Diagram: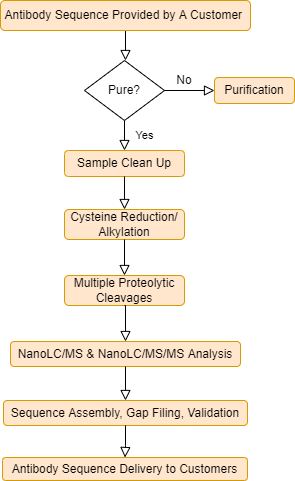 Please contact us for your de novo sequencing inquiry or request.
Application of antibody de novo sequencing service:
Diagnostic reagents development and antibody drug, CAR-T development. Some commercially available antibody reagents may have desired activity toward a target. Direct sequencing such a reagent antibody may offer a good starting point to quickly obtain a sequence template which can be used in the further development steps such as affinity maturation and humanization.
Resolving ambiguity and errors in mAb gene sequencing. Due to the higher error rate in RT-PCR and technical difficulty in mAb gene sequencing itself, it is not rare that the result from mAb gene sequencing has ambiguity or errors. The mAb protein sequencing is one of fast and cost-saving way to resolve sequence conflict and sequence errors.
Related Service & Products