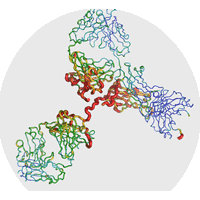 Antibody De Novo Sequencing
Antibody De novo Sequencing is probably the only viable way towards the expression of recombinant antibodies, in the cases that the antibody producing cells are not available, This situation may arise when hybridoma cells lost viability during cryopreservation, when an antibody sample is purified from human or animal serum, or when an antibody is obtained from a commercial source. The information obtained through antibody de novo sequencing serves multiple purposes. It enables the expression of recombinant antibodies with identical specificity at larger quantities. Furthermore, it allows for the generation of "improved" antibodies, such as those with human Fc regions to reduce background reactions in diagnostic testing, humanized variable regions for therapeutic development, or enhanced affinity through affinity maturation processes.

ProtTech has developed and optimized our Antibody De Novo Sequencing platform over more than fifteen years, and have proudly served hundreds of clients with our exceptional services. With our cutting-edge antibody de novo sequencing technology, we guarantee a 100% accuracy in the delivered antibody sequences.

We also provide an integrated service of Antibody Expression in CHO and Cell Line Development, as well as the services for humanization and affinity maturation. Under request from our clients, we can also carry out the structure characterization of expressed antibody (peptide mapping, glycosylation and PTM analysis, N- and C-terminal sequencing, disulfide bond mapping, etc), immunological and biochemical studies.
Process Flow Diagram: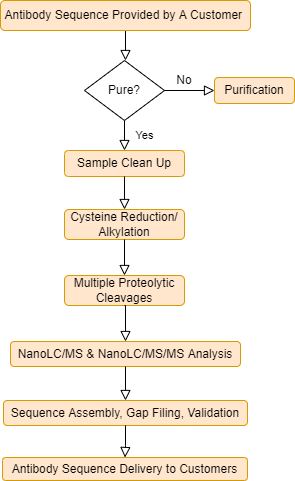 Sample Requirement: Please contact us for your de novo sequencing inquiries or requests.
Application of antibody de novo sequencing service:
Diagnostic reagents development and antibody drug, CAR-T development. Some commercially available antibody reagents may have desired activity toward a target. Direct sequencing such a reagent antibody may offer a good starting point to quickly obtain a sequence template which can be used in the further development steps such as affinity maturation and humanization.
Resolving ambiguity and errors in mAb gene sequencing. Due to the higher error rate in RT-PCR and technical difficulty in mAb gene sequencing itself, it is not rare that the result from mAb gene sequencing has ambiguity or errors. The mAb protein sequencing is one of fast and cost-saving way to resolve sequence conflict and sequence errors.
Related Service & Products